Downsizing May Be Rightsizing For Now
The initial thoughts of selling your home and moving might come years before you actually do it. When that day of decision does come, it can be a difficult one. You may have spent decades in the home where you raised your children, gotten to know neighbors, and created a community. It is hard to decide to move and leave behind that special door in the guest room where you measured the growth of your children and then, perhaps, your grandchildren. For some the garden is hard to leave after spending years cultivating the beds and growing favorite flowers, herbs and vegetables. For many, it is their "stuff" that overwhelms them and for lack of knowing what to do with all of those possessions. All of this can delay your decision to move.
However, once you get going, you'll see that the decision to move is undoubtedly the right one. Whether the decision is because you are an empty nester and the city life is beckoning to you, or the house is just too much to care for and you seek a simpler life, you must start at the beginning. What is Phase 1 in selling your home? It is to prepare the house for market, for showings. Phase 2 is the move itself. Phase 3 is closing on the house and preparing it for your buyer.
What does it mean to prepare the house for market, for showings? It means, looking around with an outsider's eye and truly evaluating the "stuff" in our homes that we have all accumulated over the years. There is clutter and then there is CLUTTER. Your real estate broker will guide you about the specific areas you need to fix. Ideally, when you show a house, it should be depersonalized from you.   When the buyer looks at photos or comes to tour the house in person, they should focus on the home itself, imagining their own lives there, not focusing on your "stuff."
Your basement and attic will be examined by the inspector after you accept a bona fide offer so they need to see the walls and the floor unencumbered by piles of your kids' old artwork or college books, or worse, your own books from college.
As move managers, we often receive referrals from real estate brokers asking us to assist their clients in getting their house ready to sell. We come in with that critical eye, seeing the things that the client no longer notices, and develop a plan to meet the timeline to list the house. The benefit of working with professionals is that we help keep you focused. You make the decisions and we implement. We have the resources to haul away that hazardous waste in the garage, we know how to sell those things that may be saleable, and we start packing away those treasured collections and valuable items for you.
By declutter, we mean to get rid of piles of forgotten paper in your junk drawer, office and bedrooms, neaten up your closets so that they are not bulgingly full. Remember, your buyers will open all the closets and built in cabinets and drawers to check for adequate storage. You want them to believe that there is adequate storage for their own family.
Now may be the time to paint the ceiling where there was damage from an ice dam or do other minor repairs. Now is not the time to put in a new kitchen or bath.
You may want to neutralize the paint colors in the bedrooms and other rooms of the house, because although you loved the bright colors, buyers often like neutrals so that they can move into right way and redecorate later.
It is far better to start early to prepare the house to go on the market.  Start by having routine maintenance in place, routinely sorting closets, drawers and books, and make regular donations.  In doing so you will be less overwhelmed when you finally make the decision to move.  You will be further along on your preparations to list the house.
Watch next blog on Phase 2, The Move!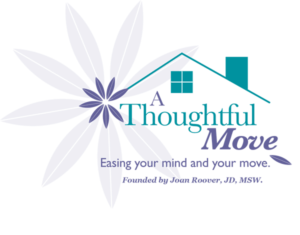 Contact: Joan Roover, MSW
www.athoughtfulmove.com
617-285-4094